Gamers Beat Cancer
1. Format
Judges can change the format of the tournament at any time to ensure a more comfortable game. For example, if there are too many participants, then the number of rounds may decrease.
1.1 Tournament Format
Single elimination, bo3. Semifinals-5 bo5.
1.2 Match Settings
Server: Europe
Game Mode: Private Match - SocCar
Map: DFH Stadium (Day)
Match Length: 5 Minutes
Size: 3v3
2. Rules
2.1 Roster
Team rosters must consist of at least 3 players to participate in a cup. Switching players is limited however. Teams are only allowed to play with players on their roster with a registered game account. All roster changes must be made prior to the start of a tournament.
If a team is unable to play due to a lack of players or someone has to leave, members of a losing team can join that team to help them fulfill a place.
2.2 Technical Issues
Teams are responsible for their own technical issues (hardware/internet). Matches will not be rescheduled because of technical issues and matches will be played nevertheless. If the maximum pause time is exceeded, the game goes on, even if the issue is not solved yet.
Maximum match waiting time - 10 minutes
2.3 Disqualification
To keep tournaments as efficient as possible, judges reserve the right to disqualify teams. This will only be done in cases where a team purposefully stalls or attempts to block another team.
The intentional use of any bugs, cheats, glitches, or errors in the game is strictly forbidden and will be penalized.
How to find an opponent on the site?
When the tournament starts, press the green "play" button.
Click on it and you will go to the game room.
Here you will see your opponent's nickname.
Add him as a friend on and invite him to a match.
After the game, put the result of the match and attach a screenshot (you can take a photo of the result from your phone or a screenshot using the "Share" button.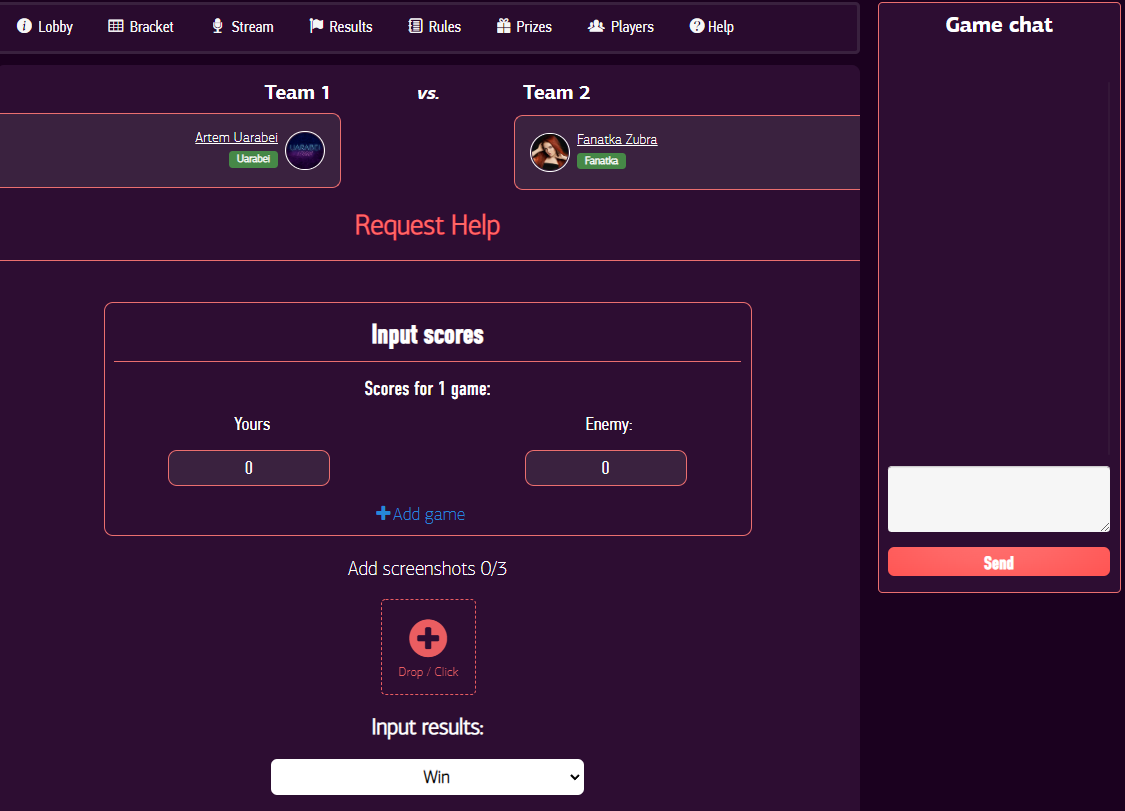 You can read more about this in the FAQ.